Jack Vance - Madouc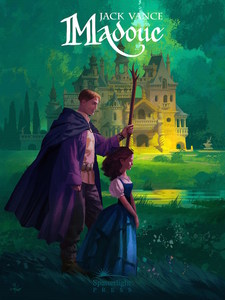 Title
Madouc

cover art by Luc Desmarchelier

Code
vde58
ISBN
978-1-61947-057-6
Published
2012
Price
$ 6.99
Summary
Wicked King Casmir cannot control Madouc, the wild and willful changeling secretly switched at birth with Prince Dhrun, rightful heir to the throne. So Casmir ordains a quest: whosoever brings him the Holy Grail will have Madouc for his bride. But the fairy-born princess chooses to decide her own fate, and sets out with a stable boy to find the grail herself. Meanwhile, a spiteful wizard seeks to undo the spell that prevents the war-torn Elder Isles from sinking into the sea.
The third volume in Grandmaster Jack Vance's Lyonesse trilogy brings the epic tale of the Elder Isles to its magnificent and melancholy conclusion. Madouc won the World Fantasy Award for best novel.
-Matthew Hughes
Lyonesse
Madouc is part 3 of 3 of Lyonesse
The Lyonesse Trilogy is a group of three fantasy novels by Jack Vance, set in the European Dark Ages, in the mythical Elder Isles west of France and southwest of Britain, a generation or two before the birth of King Arthur. An Atlantis theme haunts the story, as do numerous references to Arthurian mythology.
Some place names and concepts, such as references to sandestins as magical creatures that do the actual work of carrying out a magician's spells, are shared between Lyonesse and Vance's Dying Earth series, suggesting that the two worlds may be linked.