Jack Vance - Joe Bain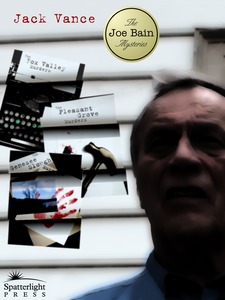 Title
Joe Bain

cover art by Howard Kistler

Code
vde77
ISBN
978-1-61947-076-7
Published
2013
Price
$ 9.99

Summary
Bucolic San Rodrigo County, nestled in California's Coast Range, is home to communities of truck farms, fruit orchards, and sleepy gas stations. The passing of old sheriff Cucchinello has left county law enforcement in the hands of officer Joe Bain, single father of a teenage daughter.
The responsibilities of the acting sheriff are suddenly complicated—in a dangerous way—when residents of Fox Valley and Pleasant Grove begin to die under violent and unlikely circumstances. Acting Sheriff Bain is caught between the political necessities of an upcoming election, and the urgent need to solve grisly crimes committed against ordinary folk of Rodrigo County.
Published together in the Joe Bain omnibus are The Fox Valley Murders and The Pleasant Grove Murders, hard-to-find examples of Jack Vance's masterful detective fiction from the '60s. Vance brings rural California from a half-century ago to vivid life, and introduces a variety of intricate characters with all the detail readers expect from his fantasy and science fiction works.
These two books, with an accompanying outline for a third entry in the Joe Bain series, The Genesee Slough Murders, demonstrate Vance's ability to transport his readers into a seamlessly-crafted locale, teeming with believable characters who grab your interest from the first page.
-Joel Hedlund